I love sharing my favorite things. (Also here and here) And speaking of a few of my favorite things, my children really need to watch The Sound of Music before school starts. They already love the music. Not sure if I should break it to them that there are Nazi's in it. I know that surprised me. I thought the movie was about running through mountains and singing. Perfect movie to spark a discussion on moral courage.


Back to my favorite things right now. Summer Edition.

iPhone Waterproof Cover
My husband order this amazing waterproof cover. And I was like, why didn't you order two? And why didn't I borrow it when I went to California? Perfect for the beach, hiking, and other fun summer activities. My kids love it when dad gets underwater pictures or videos of them at the pool. And how many times do I try and capture a moment at the pool, but get concerned about someone splashing me. This is a perfect summer accessory.




Insulated Cooler Bag
Ice chests are great for keeping things cold. But it's not always convenient to carry around. I love having a insulated bag that I can freeze the night before to keep things cool. It was perfect for the beach to keep some water and fruit nice and cool. Or for when we go on a hike. I don't take it on the hike, but I love having extra water in our car and I don't want it baking in the car when we get back. I always bring my bag on my drive to California and we use it when we get there. I got mine from my girlfriend as a Bunco prize. The link above is for one similar. I loved it at the beach because we usually park where it is free and walk a ways. And I can't carry baby girl and an ice chest.




Ice Cream Duplo Creative Play

Isn't this the cutest toy??? When we got back into town Grady had purchased toys for the kids. Lego's actually. Sets that he wouldn't mind playing with himself. And he got this for baby sister. I love encouraging her to play with blocks. And this cute set is perfect for summer. She loves pretending to eat ice cream and sharing it with me. It works great with her kitchen. You can combine flavors and toppings. Draco was playing with his sister and made her a Popsicle. He used an orange block and told me it was orange. Not mango. Thank goodness. Her mango allergy might extend to Lego toys as well. This set is great for encouraging brothers to play with her, which helps me get more done.






Nioxin Scalp Sunscreen
I absolutely love this stuff. (I didn't include an amazon link because you should be careful about buying hair products online. They can be counterfeit, old, etc. As a stylist I know you should only buy from a professional.) In you are near Orange County this Salon carries it.

I have 4 beautiful blonde children. And sometimes when they are blonde and babies their scalp is a prime place for sun damage. I always worried about my babies especially when they won't always keep a hat on. I have been using this for years and I LOVE it! It's great for everyone. But especially my little blonde baby girl. Our scalps need protection from the sun. As parents we need to teach our children and help keep them safe. I know you will love this! I actually use this (for their scalps), a stick (for their face) and lotion (for their bodies) to help keep them safe. And hats and rash guards when possible.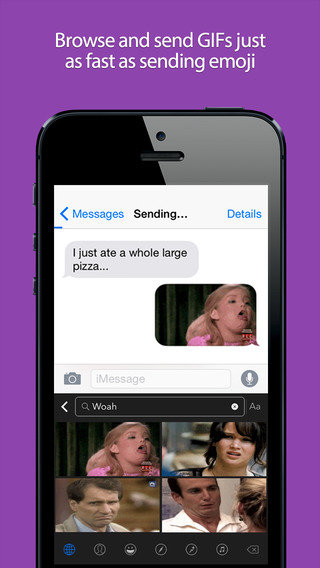 PopKey GIF Keyboard
Have you seen this? My husband found this and installed it on his phone. (He is so great about hearing new fun things) And it's free. You can type in an emotion or feeling and get tons of hilarious GIF's. Let me just tell you that his texts have gotten even funnier. Great way to have fun while texting. I need him to install it on my phone next.

I hope you have learned something new to try! Have a happy and safe summer!

Some of these items are affiliated links. You are welcomed to buy from anywhere. But I don't mind if you buy them from here. I only share items I really like or use. Thanks for your support!